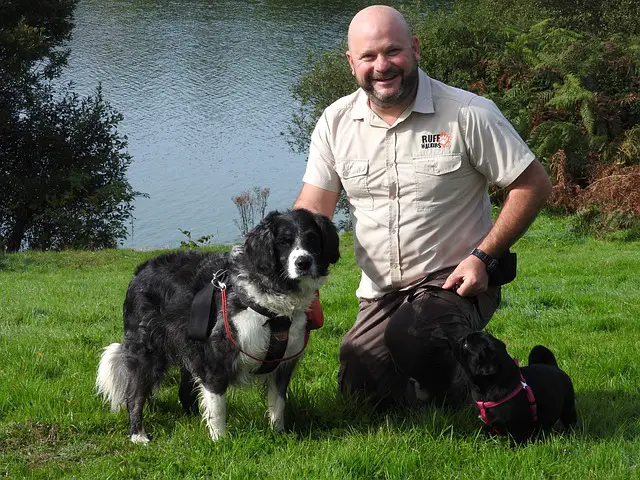 The question "how much should I charge for dog walking?" is a question commonly asked by anyone going into the business for the first time. Setting up a price structure for your services that's fair and, at the same time, worth the quality of services you offer can be a pretty challenging thing to do.
You know you've got bills to pay, but your customers are also less willing to pay more for a service if they can find a cheaper alternative, especially if both services are of the same quality.
In the light of this, therefore, you're going to want to do some research to find out about your market. This, as well as a number of other factors, will affect how you set your prices as a dog walker.
How Much Should I Charge For Dog Walking? — Before You Begin Setting Your Prices
First, check out this video below from someone in the dog walking business and learn how you can start yours.
1. Be The Best Not The Cheapest
First of all, find out your company's strengths and what area you excel at the most in driving value to your customers. Getting into the pet sitting business is quite easy these days so the competition is fiercer than before. You need to constantly innovate else you'll find yourself out of business before you know it.
Now, some people cheat themselves by assuming that reducing prices will bring more business to them. However, this only works in the short term. It's not a sustainable plan. As you continue in your business, expenses are going to increase and you'd still have to survive, don't forget. Don't cheat yourself by filling up your schedule but starving your business and yourself.
So, rather than do that, position yourself, instead, as a leader in your field and, therefore, deserving of what you charge.
2. Be Consistent
Before you begin to charge your customers, you should have a reason for charging whatever it is you charge. Don't just charge haphazardly as your customers will notice it and some will call you out on it. If you don't have anything to say in your defense, you could either lose that business or get short-changed for your services.
Of course, customers are going to question your prices no matter what. However, if you've clearly thought about your prices before charging them, you'd have always have a sensible answer and can demand what you're due.
Don't forget that, at some points in your business, you're also going to have to increase prices. Customers will not always understand that but you must be ready to explain by letting your customers know the benefits they stand to gain using your services and why the price increase is well deserved.
3. Check Out What Other Professional Dog Walkers Charge
Before deciding on your rates, a helpful tip is to find out what other professional dog walkers in your locality charge. For people living in metropolitan areas, that information isn't so difficult as there are usually enough competitors in the market. So, run a Google search to find out what the average dog walking rates are in your area.
For rural areas, the process might get a tiny bit trickier. Sometimes, the number of dog walkers in your area are really few. Other times, you're even probably the only one providing the services in the whole town, depending on the size of the town. In this case, you'll be the one setting the prices which is an advantage for you.
Now, when you're comparing prices from a Google search result, remember that you want to compare apples with apples. You don't want to be comparing apples with pears.
For most companies, the standard is a 30-minute walk. So, check out how companies price their 30-minute walks and then find out the average cost and the median cost. With this, you should be able to decide on a ballpark figure for your dog walking services.
Click here to find out how much Wag dog walkers earn in our article: How Much Do Wag Dog Walkers Make?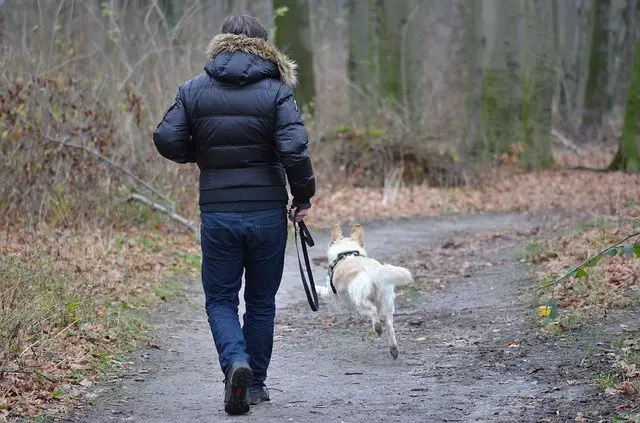 4. Check Out Services From Other Professional Dog Walkers
Again, look at the services from other dog walkers in your area. Rate them in terms of customer service, their online presence, and convenience, especially convenience.
With the advent of dog walking apps such as Rover and Wag, convenience is becoming more and more expected and demanded by customers.
Thankfully, there are now apps that can help you compete favorably with these guys. These apps make it easy and convenient for your customers to schedule their appointment with you, and could also help you with your administrative duties as well. This way, you can have more time for your customers. 
It may seem like leaving your administrative duties to an app is not personable. But think about it this way, if you leave the app to handle such duties, you can spend more time thinking up more creative ways to show your customers that you appreciate them. You could send a birthday card or check in with them regularly to see if they are satisfied with your services.
5. Have All Your Expenses Written Down
You want to have all your expenses for your business written down — the fixed ones like your rent and insurance, and the variable ones like your supplies, gas, and wages. Don't forget the poop bags too! You'll need like a ton of them.
It's important to have these expenses written down as whatever you charge, must at the very least, cover the expenses incurred in rendering the service. If those expenses are not covered, not only will you not be able to make a profit, but soon, you might not have a business to run anymore as your capital would have completely dwindled.
Also, as it is said, a short pencil is better than a long memory. Even if you know all these expenses by heart, it's important to have these things written down for easier tracking and monitoring. You'll see how this comes in handy by the time we start calculating how to charge for your dog walking.
Factors That Should Affect Your Dog Walking Costs
Generally, there are a number of factors that affect how much dog walkers charge for their services. These factors include the number of dogs being walked, the number of walks being purchased, and the distance of the dog walker from the client.
1. Number of Dogs
It depends on how you want to run your dog walking business. For some dog walkers, the cost of dog walking increases by a slight token for every additional dog a customer has to work. Others charge half their normal charge for the second dog. For yet others, there won't be any extra charge.
2. Number of Walks
Typically, when a client pays for multiple walks at a time, they would expect a discount and that's something to consider.
3. Travel Expenses
Of course, you'd have to factor in how much it costs you to get from where you're going to te client's place. Typically, dog walkers charge about $1 to $2 for every mile if they are more than 10 miles away from their client's place.
How Much Should I Charge For Dog Walking? — Average Dog Walking Fees (How Much Dog Walkers Charge Generally)
Knowing what other professional dog walkers charge for dog walking can help you decide on what to charge for your own services.
Generally, this price ranges from $10 to $60 depending on a number of factors, most especially location. The average pet owner spends about $15 to $25 for a walk.
The national average cost of dog walking is about $20 with the maximum cost being $10 and the minimum cost being $60.
For 30-minute walks, dog walkers mostly charge between $20 to $30. Per hour, the rates go up to $30 to $60. Dog walkers that charge per walk are typically more affordable as that can go for as low as $10 to $35.
So, per month, on average, a dog owner would spend between $280 and $360 for dog walking.
Now, in New York, dog walking rates are usually higher. So, put that into cognizance if you live in NYC. For a 30-minute walk, most dog walkers would charge between $30 to $40 per walk, and if for an hour, that could double to $60 per hour.
How Much Should I Charge For Dog Walking? — How To Calculate Your Rates
Here is how to calculate your dog walking rates in a simple but effective way.
Step 1: How Many Dogs Can You Realistically Walk?
Decide on how many 30-minute dog walks you can achieve per day, realistically. Don't forget that you want to include travel time as well. 15 minutes between dog walks seems reasonable enough, especially if you're in the city. However, if you and your client are in different cities, then don't forget to calculate the needed travel time accordingly.
So, let's do a rough calculation. Say you have 8 hours for work daily and each dog walk takes about 45 minutes for the walk in total.
Calculating:
8 hours x 60 = 480 minutes.
480 ÷ 45 = 10.6 walks or approximately 10 walks per day.
While we will be using ten walks per day as the benchmark in this discussion, you will want to take your own peculiar situation into consideration. Take into account your travel time, break times, how far you can walk, as well as other factors unique to your situation.
All these will walk together to give you what makes up a full schedule from Monday to Friday.
Step 2: Calculate Your Monthly Expenses
Say your expenses per month are as follows:
Dog Walking Insurance: $200
Marketing: $150
Gas: $200
Sundry Expenses: $100.
Altogether, you should be spending $650.
Whatever you charge for your dog walking must cover these expenses as listed above.
So, say you have 20 working days in a month.
This will be $650/20 = $32.5 per day.
So, per walk, since you'll be having 10 walks per day, you should be charging, at least:
$32.5/10 = $3.25 per walk.
But that's not all, read on to the next step.
Step 3: Don't Forget You Need To Pay Your Staff And Yourself
Now, in our last step, we gave a base dog walking fee that only covers your expenses. But that's not the only component that should be included in what you charge your clients. You know you need to pay your staff and also pay yourself.
Now, if you're a solo walker, this part is easy. You only need to calculate just how much you'd need to live well in a year. Dog walkers with staff will have it slightly more complicated.
But for the sake of simplicity, let's calculate the costs for a solo walker.
Imagine this solo dog walker needs to earn, at least, $30,000 per year before taxes, then he should be looking at:
10 x 260 working weekdays per year = 2600 walks per year.
$30,000/2600 = $11.50 per walk.
Now, we are going to add this to the base fee we got in the previous step. This gives us $11.50 + $3.25. This gives you $14.75 for each 30-minute dog walk.
Step 4: Use Your Advantages To Your Advantage
What value are you bringing to the table? It's time to use these things to your advantage. So, whether it's your excellent customer service, convenience, or technology, these things should also reflect in your prices as well, after all, you need money to keep them running.
To help you decide, you can check around the market for what other companies with these added value charge their customers. That should help.
Step 5: Set Your Rates
So, in the end, say you decide to go with $20 per 30-minute walk. This means you could charge a 45-minute walk at about $35 and a 60-minute walk at $40.
Some dog walkers say they charge more for dog owners who request a short walk. This is because, to fill the same amount of time as a long walk, you'd need to go out and find more clients and that can be a little tasking — pitching to a new client, that is.
But for dog owners that book a longer walk, dog walkers are, generally, more inclined to give a discount. Like in the case we mentioned above, they could decide to charge a 45-minute walk at $30 and an hour walk at $37.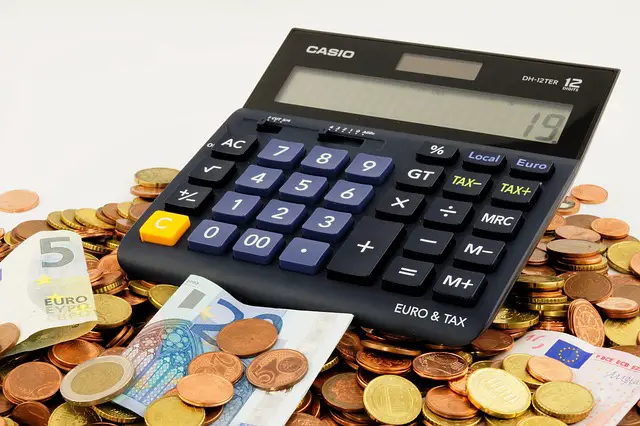 Add-Ons To Consider To Increase Your dog Walking Rates
1. Updates
It's common to see dog walkers take photos and videos of the dogs they walk to send to the dog owner so they can see how their dog enjoyed their walk. You can also try this. 
Try recording your dog walk via photos and videos, then you can text or email these to your client. Your client would appreciate this as they can be more satisfied that their dogs are actually getting walked and properly so too.
2. Include Pickup and Drop-Off Services
In these services, you simply pick up the dog from his home and take them down to an off-leash park or even a large dog park (fenced of course). Usually, you take the dog out for about a couple of hours and then drop him home when y'all are done. These services are usually charged at $45 per hour. Good money eh?
3. Home Care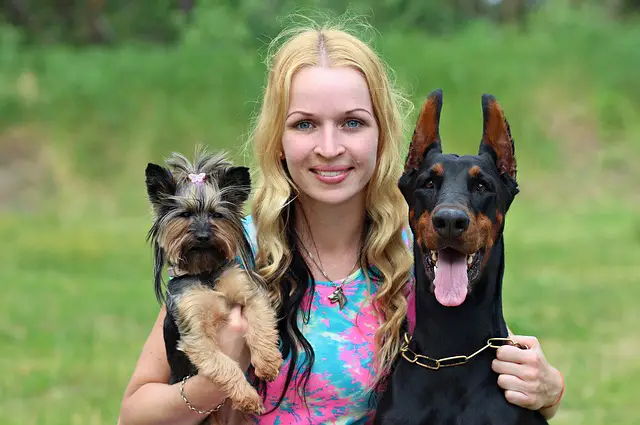 For some dog walkers, home care is another service they offer. So, they will come to your home and play with, feed, treat, give water, and even give meds to the client's dog. In addition, this home care might also extend to bringing in the mail, watering plants, turning the lights off or on (as the case may be). 
In the end, you give the dog owner a report of how their dog behaved while they were away.
For most people who offer these services, they charge about $1 per minute and usually dog sit for about 20 minutes a day, three days a week.
4. Yard Pickup
Okay, this one is a little disgusting but all the same, it can put extra cash in your pocket. You can help dog owners pick up the dog waste in their yard. Services such as this are usually charged at about $15 to $20.
5. Late Hour Walks
If you can afford the time, you can offer a late hour walk service. That is, walking dogs after 7 pm or 8 pm. Dog walkers typically add $5 to their normal fees when working late.
6. Last-Minute Requests
You can make up to $10 extra on your normal fees for last-minute requests within a 24-hour window.
7. Holiday Walking
Getting dog walkers during the holidays is sometimes tricky. Many are on a break to spend time with their family and whatnot. If you can spare the time though, you can snag a few walks during the holidays.
Clients already, naturally, expect that they will be charged more for holiday dog walking. So, you could take advantage of that.
8. Behavior Adjustment Training
Behavior training will depend on the size and age of the dog in question. You can charge anything from $10 above on top of your regular dog walking fee. In the end, the total cost would depend on just how much training said dog needs.
If you're a trained dog walker, best for you. You'll get more jobs as dog owners will be more confident handing over their dogs.
As an advice, we'd say that only dog walkers who are trained should add behavior training to their services as things can get out of hand pretty fast, and knowing what to d in the face of that would be dependent on what you know and experience.
Click here to read our article on Dog Training Equipment.
9. Walking Special Breeds
Dog breeds such as the Basenji, Afghan Hound, Beagle, Bloodhound, Bulldog, Dalmatian, Chow Chow, etc can be quite difficult to handle because of their behavioral issues. If you have the required training though, you can offer this as one of your services and charge more than a regular dog walker for walking such dogs.
There's much more to the dog walking business than meets the eye. We are sure you have more questions besides how much you should charge for dog walking. In this video, Jackie attempts to answer those questions.
Consider The Following To Boost Your Resume And Land More Clients
1. Memberships
Clients will, naturally, feel more at ease hiring you if they know you belong to a body. There's the National Association of Professional Pet Sitters, for instance. If you aren't already a member of this group, then you might want to be as it increases your chances of getting hired. Pet owners want to know that their pets are in safe hands and being accountable is one way you can assure them of that.
2. Insurance
You want to get insurance as it gives your clients peace of mind. Of course, we've already shown you how that should reflect in your fees when charging your clients. However, getting insurance means that dog injury as well as property damage while on the walk will usually be covered by insurance. That's more peace of mind for the client and better chances of you getting hired.
3. Know Pet First Aid
Some dog parents when interviewing you to walk their furry babies will ask about your knowledge in canine health. You should know how to administer first aid and CPR to a pet. Anything can happen while walking a dog, you know? Dog parents need to be sure that even if something sudden happens, their babies are in capable hands.
To find out everything that needs to be in your doggy first aid, click here to read our article on Hunting Dog Equipment.