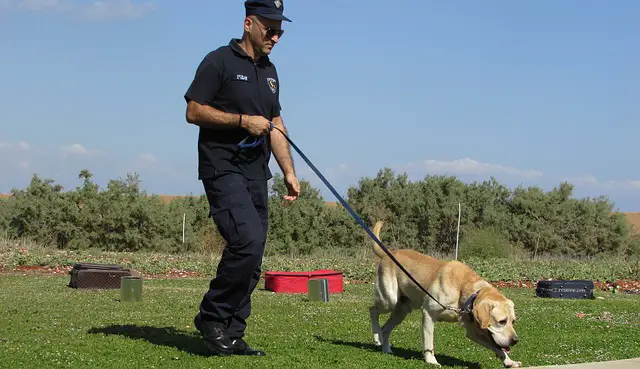 If you're a dog lover and you've considered starting a business that gives you convenience and also makes you some cool cash, you've probably considered dog training. To be sure that this is a worthwhile venture, it might be important to find out, how much do dog trainers make a year?
Today, this is what we're going to be discussing. We will talk about the average dog trainer salary per annum as well as everything you'll need to make a cool salary as a dog trainer.
In the United States, dog trainers are able to make quite the enviable salary with hard work and proximity to a strategic location.
According to Glassdoor, as at 2018, the average dog trainer was earning about $25,723 per annum. If you're looking at other statistics, the salary increases to about $37,000, that is, considering independent dog trainers.
The good news is that the outlook for wages for dog trainers seems to be on an upward trend. Experts project that it will grow by 11% over the next decade.
So, if you're a dog lover and you love to help pet owners overcome their challenges with their pets, this might be the career you've been waiting for.
How Much Do Dog Trainers Make A Year?
On the average, a dog trainer makes about $21 an hour or $25,723 a year, although the U.S Bureau of Labor Statistics puts that estimate at $33,600. It seems a little low, we know, but it can actually be much more than this. Cesar Milan, for instance, makes about $170,000 monthly.
Of course, to make that much, you'd have to world-famous or at least,  famous nationwide. But what's sure though is that with hard work and experience, your salary as a dog trainer can get as high as you want it to.
In fact, right now, in some states, dog trainers make more than $40,000 dollars, exceeding the national average. Plus, there are some dog trainers who currently make $150 per hour and end up making about $53,000 per year.
Top Five States With The Highest Annual Average Dog Trainer Salary
The state with the highest annual average dog trainer salary is Minnesota. Here, dog trainers make about $43,710 per year. Other states with the highest annual average dog trainer salary are:
New York: $40,330.
California: $39,600.
Florida: $39,600.
New Hampshire: $39,260.
How Much Do Dog Trainers Make A Year? — Employee Vs Entrepreneur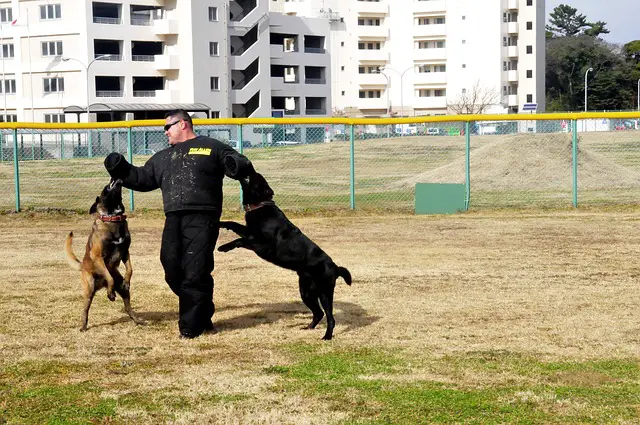 How much you can make as a dog trainer would vary significantly if you're an employee versus if you're running your own business. We have dog trainers who work independently, handling their own marketing and whatnot while there are those who draw a stable salary working either for a company or for another trainer. You'd have to make up your mind on which of them you'd want to be.
So, here are the deets on both options.
If you decide to be a solo dog trainer, i.e. an entrepreneur, you can be sure that income will not always be predictable especially when your first start out. An employee, on the other hand, is guaranteed a minimum salary every month. Most advise that you begin your career working for someone else while building the necessary skills, experience, as well as the needed contacts before you decide to launch out.
In most cities, the top dogs in the dog training industry can earn up to 6 figures annually which is more than we can say for the average dog trainer. If you want to grow your income in your career as a dog trainer, you can launch out on your own and hire some subcontractors as long as you have enough business to warrant that.
Top dog trainers with a reputation and certifications quickly rise to the top in the industry. Once you get to that certain point, especially if you choose to specialize (good areas are field trial, police dog training, or advanced behavior modification), you can even begin to set your own fees.
Independent dog trainers require a bit of a capital to set up shop. You'd need your marketing package including business cards, a solid website, door hangers or flyers, attractive brand communication materials (including a logo) and the likes. Though the marketing does not have to be costly, it does have to be strategic if it's going to bring in business.
On the other hand, we have dog trainer employees. This one is relatively easy to get into. You simply need to know the basics of dog training, be personable, and love pets. Experience and added certifications will grow your reputation with time which would also grow your income as well.
Job Description Of A Dog Trainer
If you've thought about it and you've decided to be a dog trainer, then you might want to consider the job description of a dog trainer, if you don't already know what a dog trainer does. But it's actually quite simple.
As an overview, the dog trainer is supposed to analyze every dog to find out its breed, the situation at its home, its temperament, as well as its health and history. Using this information, the dog trainer creates a training plan for the dog which will usually include a weekly training session where they meet with the dog and its owners.
Dog trainers teach dogs basic skills and commands to help them (the dogs) behave well, act politely, and fit into society better.
They also help dog owners develop the necessary confidence needed to lead and guide their dogs to help them behave well too.
Oftentimes, dog trainers would carry out activities including basic house training, as well as simple and basic voice commands. Training can also get complex involving more elaborate tasks such as working with people who are ill or disabled like leading the blind or similar.
Some highly trained, specialized dog trainers also train dogs to carry out obstacle courses and even win dog shows.
Sometimes, your job as a dog trainer would require you to travel to where the dog is. For some other clients, they will drop off their dog at your place. You'd need to consider these when making your dog training plan so you can factor in the necessary expenses to be made.
All training materials are usually provided by the dog trainer, except for maybe the basic training. So, it's your responsibility to get the sheep to be herded, the obstacles if you'll be doing agility training, harness if you'll be doing skijoring, balls for playing catch as well.
Oftentimes, bad behavior in dogs has something to do with its owners. So, a dog trainer would need to be empathetic and tactful when communicating with their clients if they want a successful outcome with the training.
Click here to learn about all the Dog Training Equipment you'd need as a dog trainer.
Duties Of A Dog Trainer
The following are the duties of a dog trainer.
Work with dogs to teach them some basic commands.
Make sure that dog owners know how to comfortably command their dogs with confidence.
Correctly train dogs using positive and negative reinforcement.
Run specialty trainings for dogs for tasks such as emotional support, hunting, and service training.
Help to discipline dogs in cases of misbehavior.
Dog trainers also prepare coursework for dogs as well as dog parents to complete.
What's The Job Outlook For Dog Training In The United States
Fortunately, the job outlook for dog training in the United States is a positive one. According to the U.S Bureau of Labor and Statistics, the dog training career path is growing faster than average, and by 2024, BLS projects that the industry would have grown by 11%.
Currently, in the United States, there are roughly 10,000 dog trainers in all. But with the rate at which American households are acquiring pets, the demands for dog trainers would consequently rise and this number will not be enough to handle all that demand.
From the look of the current state of affairs, it's only a short time now before dog training gets fast-tracked into a full-time career.
Should You Become A Dog Trainer?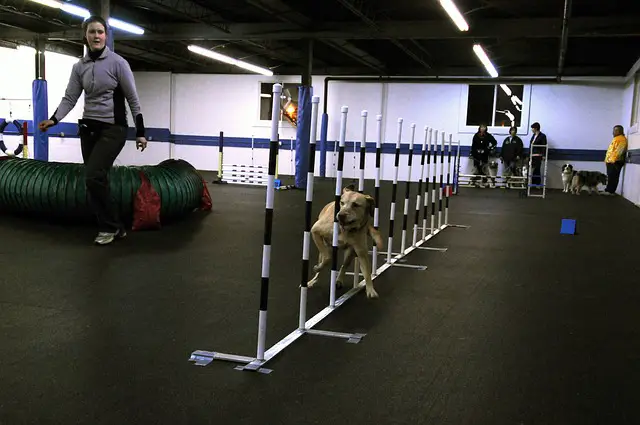 Well, that's ultimately up to you to decide but here are the facts.
1. High Overall Job Satisfaction
The good thing about dog training is that most dog trainers currently seem satisfied with the job. The job has its challenges but the salary, rewards and job outlook are great and seem to be on an upward trend too.
So, if all of these line up with your goals in life, we'd say go for it, totally.
2. Average Salary Is Medium
Like we mentioned before, the national salary for dog trainers on the average amounts to $33,600 annually. However, there are some dog trainers who earn more than $40,000 and in some cases, more than $50,000 as well.
If you are well-trained specialist with middle-class clientele, it's possible to make up to $150 per hour.
3. Job Outlook Is Great
According to the US Labor Department, dog training as a career is what you'd call a rapid accelerator. In summary, the job outlook for this career path is great.
Right now, there are 10,000 dog trainers in the U.S. However, by 2024, that number should increase by 11% as experts project that the demand for dog trainers will only rise.
4. Little To No Education Required
You don't need any special education or licensing to be a dog trainer. So, if you want to jump into your career, you can simply do your own research added to some of your experience and get running immediately.
Nonetheless, some people advise that you take a few courses and earn some certifications. In the end, this could help you charge more in the future.
5. Requires Some People Skills
Of course, since you're training dogs, you should, naturally, be able to handle dogs. However, dog trainers need to have people skills too as they will be dealing with dog owners as well. If that's something you have in abundance, then dog training could be a career to consider for you.
If you've read these basic facts and have come to the conclusion that you'd like to be a dog trainer, then here's how you can do that.
But before then, watch this video to see how a typical day in the life of a dog trainer looks like for a better idea of how your potential career would look like.
How To Become A Dog Trainer
1. Learn About Dogs And Their Behavior
Currently, there aren't exactly any courses or exams that dog trainers ought to take to qualify to be dog trainers. However, it really does not make sense to say you want to become a dog trainer if you don't know anything about dog behavior.
Read up everything you can find from well-respected authors about dog behavior. Taking dog obedience courses will also help you while you make your extensive online research also on the subject.
2. Get Some Experience
You can't claim to have dog training skills if you have never worked with dogs before. So, you ought to get some experience first. You could work as an apprentice for someone who is more experienced first. While there, develop your own training methods and get skills.
So, look around you and find possible mentors or pet stores where you can get some hands-on experience.
3. Keep Reviewing Your Skills
As you research and get some hands-on experience, it's now time to evaluate your skills. Really look at your abilities and grade yourself while you work towards making them even better. Take some courses as well so you have some proof of experience in the dog training field.
4. Open Shop
Once you've got the first three steps sorted, it's now time to begin your business. You can do that at a local store or you can choose to partner with an already established dog training.
In all, what's most important is that you're prepared before you begin your business.
5. Professional Certifications And Membership Certifications
You don't really need a certification to be able to work as a dog trainer. Nonetheless, professional certification is sure to boost your business and help you earn more in your career.
One organization you could consider getting certified from is the Certified Professional Dog Trainer — Knowledge Assessed. This organization verifies that you've had enough private and group training experience which qualifies you as a professional dog trainer.
Another good one is the Association of Professional Dog Trainers. There's also the Pet Professional Guild as well. Joining either of these organizations as a member will get you some clout, give you more experience, and boost your reputation.
Education Required To Become A Dog Trainer
There is, currently, no formal education required to become a dog trainer. All the same, this does not mean that anyone in possession of a dog leash and whistle can be a dog trainer. In fact, without some experience, you're unlikely to succeed in this industry.
So, while there is no regulatory dog training program, potential dog trainers must make it their responsibility to educate themselves in all matters of dog training.
You can begin by reaching out to the Certification Council for Professional Dog Trainers and the Association of Pet Trainers. These guys should have enough information to give you on the courses you'd need and the classes to take.
They'll also show you how you can gain the needed experience as well as the necessary research you need to conduct to become a full-fledged dog trainer.
When you've got all that information, you can take the needed courses at your pace while you aim for certifications. This will help to put you ahead of your competition. It goes without saying, dog trainers with certifications and CPDT titles, as well as those who continue to educate themselves even while in the business end up much more successful than those who don't have any such thing to show their clients.
Necessary Certifications To Become A Dog Trainer
Again, you don't necessarily need this but trust us when we say you want this. Even though you're not mandated by law to provide a certificate before you can run your business as a dog trainer, landing jobs will be much tougher for you if you don't have any certification.
The Association of Professional Dog Trainers is the largest professional umbrella for dog trainers worldwide. They offer a plethora of resources to wannabe dog trainers including newsletter, training tips, seminars, and courses. You might want to consider getting certified by them.
Now, the thing about the Association of Professional Dog Trainers is that your certificate would have to be renewed regularly. And you can only do that if you're furthering your dog training education.
Besides the Association of Professional Dog Trainers, there are also trade schools and community colleges where courses and specialization courses are offered. If you're interested, you can also take these courses to increase experience and get certification.
On the average, these trainings last about 6 months or less.